Y Type Strainer Manufacturer, Bolted Cover Design
Y Type Strainer Manufacturers, Drain Plug and Lower Pressure Drop Design
Flanged End / Screwed End / Socket Weld / Butt Weld End Y Type Strainer Manufacturers
Screen Available from 2 mesh to 200 mesh (up to 50 microns)
Special on demand : Rubber Lined Y Type Strainer, PTFE Lined Y Type Strainer, Jacketed Y Type Strainer,
Magnetic Type Y Strainer, Fabricated Y Type Strainer Manufacturers & Exporters India
Ever Ask You Below Questions To Your Supplier Before Buying
' Y' Strainer for Better Life & Health of Your Plant ???
1. What is Filtration Area across the Line for quoted strainer?
> We gives minimum 2.5 to 3 times Filtration Area in our manufacturing Series of FCYS31/FCYS32. We can offer more times filtration area Y Strainer on request. Large Filtration area means = Less Pressure Drop (∆P), Less Cleaning of Filter, Less Maintenance and Long Life of Filter Element.
2. What is Pressure Drop - Delta P for quoted strainer?
> We gives guarantee for maximum 0.2 to 0.4 bar pressure drop for general application. Contact factory for special media and very lesser pressure drop filter.
3. Arrangement of Vent?
> Our design of Y Strainer have Vent Provision through cover.
4. Online Filter Cleaning Provision?
> We do provide a Ball Valve/Vent Valve at cover to clean a strainer filter element online without open a cover from body, which save your maintenance time. General practice we provide Blind Plug at cover, vent valve provide on customer request. Our arrangement of cover is bolting type so you can easily dismantel from body.
5. Is there provision to mount Differential Pressure Gauge?
> Our Y Strainer have provision to mount ∆P Gauge to check a pressure drop and clog condition of filter element, which can provide on request.
6. Bolted Cover design to easy open cover?
> Our manufacturing all type of strainer have only Bolted Cover arrangement to open cover easily and no chance to failure of thread of body.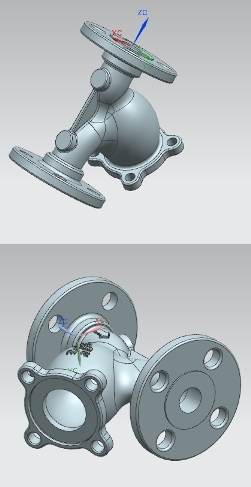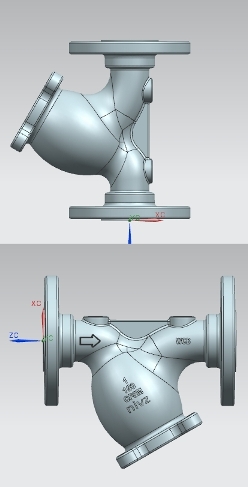 What is Y Type Strainer?
This product is designed for remove foreign matter from pipe lines and provides protection for pumps, meters, valves, and other similar mechanical equipment, which is called as Strainer. "Y" Type strainers are named after their shape and normally used for course filtration. But with large filtration area can be used with fine mesh also. The strainer improves the clearance in the medium, and prolongs the life of valves; protect expensive pumps, meters and other equipments. It is suitable for water, Air, Gas, petroleum, steam and other fluids.
Dharmi Engineers manufacturers & exporters of wide range of Industrial Strainer such as Y Type Strainer, Basket Type Strainer, Pot Type Strainer, T Type Strainer, Simplex Type Basket Strainer, Duplex Type Basket Strainer, Conical Inline Strainer, Rubber lined Strainer, PTFE lined Strainer, Magnetic Type Y Strainer etc.
_____________________________________________________________________________________________________________
The Difference between Strainer & Filter
Actually there isn't any since a strainer is, in reality, a coarse filter. The question is then one of semantics. Generally it is assumed that if the particle to be removed is not visible to the naked eye, the unit is filtering, and if the particle is visible, the unit is straining. The average human eye can detect a specific particle between 50 and 70 micros. Most people cannot see anything smaller than 325 mesh, or 44 microns. Since 200 mesh is equivalent to 74 microns, a general rule would be that if the screening device is coarser than 200 mesh, it is a strainer and if it is finer than 200 mesh it is a filter.
One of the best uses for a strainer is in conjunction with a filter. By installing a strainer directly ahead of a filter, the large heavy pieces which would quickly clog the filter are removed. The filter is then free to do its major job of fine particle removal and does not have to be cleaned so often
____________________________________________________________________________________________________________
When to Clean Y Strainer Element?
Y Strainer element should be cleaned on a regular basis, not when they become clogged, to insure that they are not damaged by too high a differential pressure. One more reason for frequent cleaning is a phenomenon known as "runaway buildup". As dirt in a strainer accumulates and as the mesh or perforations plug up, pressure drop increases. The curve of this pressure difference is not a straight line. It starts out as a low slope, but as the basket clogs more and more it turns upward faster and faster. As the dirt builds up the free open area in the basket gets smaller and smaller.
_____________________________________________________________________________________________________________